The Solidarity Singers CD
This CD includes 19 songs in English, Spanish, and Yiddish dealing with labor issues affecting public and private sector employees, union organizing, civil rights, and current issues such as globalization, child labor, and the exploitation of workers everywhere.
It includes: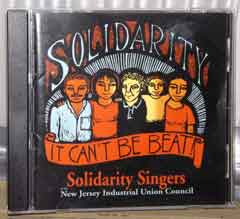 Rocking Solidarity
We'll Stay Out on the Line (This Little Light of Mine)
Dump the Bosses Off Your Back
We're Gonna Roll the Union On
Woke Up This Morning (With My Mind Set on Freedom)
We Are Building a Strong Union (Jacob's Ladder)
De Colores
There Is a Power in the Union
No More Layoffs
It's a Small Wage After All
As Time Goes By
Ale Brider
Talking Union
Organize (We're the Union)
No Nos Moverán (We Shall Not Be Moved)
We Were There
Public Workers Stand Together
WTO Has Got to Go (Shout No!)
Solidarity Forever
To Purchase Directly:
Send a check or money order for $15.00 per CD to Bennet D. Zurofsky, Esq., 161 Walnut Street, Montclair, New Jersey 07042.